Simon George, DVM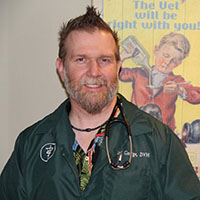 Simon grew up in Colorado on a farm with goats, horses, cattle, pigs and many other animals.  He was very involved in 4H which led to his love of animals and, in turn, veterinary medicine.  The veterinarian for his 4H club, Dr. Jim Friedly, allowed Simon to tag along with him on road calls.  Eventually, Simon started volunteering in the clinic and he soon became a veterinary assistant, helping with treatments and surgeries on all animals, big and small.  Simon continued working at Countryside Veterinary Clinic while attending Adams State College in Alamosa, Colorado.  At his job, he learned a lot about dedication and hard work, sometimes spending 72 hours straight at the clinic sleeping there to keep an eye on a horse recovering from colic surgery or a very sick dog in need of constant overnight care.  After graduating from Adams State with a double major in Biology and Chemistry, he pursued his love of veterinary medicine and was accepted at Colorado State University's School of Veterinary Medicine.  Simon continued to work through school, volunteering with 4H groups and working at the Veterinary Teaching Hospital as a surgery technician, large animal technician, and radiology technician.  After graduating in 2003, he decided to move to New Hampshire and see a new part of the country.  He started working at Wadleigh's Falls Veterinary Clinic under the tutelage of Dr. Irving Salkovitz.  Simon learned much about medicine and surgery for both large and small animals.  He found he truly enjoyed equine dentistry, small ruminant medicine, and small animal surgery as well as practicing medicine with caring guardians and their pets.  After having his first child, Elayna, Simon decided that he needed to change his life in order to spend more time with his family.  Deerfield Veterinary Clinic was begun.  His goal is to practice high quality, affordable medicine in a caring, compassionate atmosphere.  With the house attached, his family will always be around and he will always be available for his patients' needs.  He hopes that you come by, meet his family, and take a tour of the clinic sometime.
Robyn Eldredge, DVM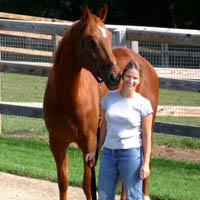 Dr. Robyn Alizzeo Eldredge grew up in Massachusetts with a love of horses. She mucked stalls to help pay for riding lessons. She continued with a passion for all things equestrian while she attended Mary Washington College in Virginia. Here Robyn went to nationals and placed fourth on the equestrian team. Oh, and she majored in biology, too. While in school, Robyn had the great opportunity to study abroad in Spain and New Zealand. After traveling the world, she decided to settle down and attend veterinary school at Kansas State University. During vet school, she took part in many clubs and was the president of the student chapter of the Association of American Equine Practitioners. Robyn was also a member of the foal watch team and was the Purina Mills representative for her school. She also did numerous externships including one at Rood and Riddle in Kentucky. After graduating from Kansas State, Robyn headed to Idaho where she did a year internship at Idaho Equine Referral Hospital. Upon finishing her internship, Robyn decided to change to mixed animal practice as a way to broaden her horizons. She loves the variety that comes with mixed animals and gets excited about the challenges that arise when dealing with many different species. Robyn worked at Pembroke Animal Hospital in Pembroke, NH for four years where she learned a lot about small animal medicine and surgery. She also found a love for camelids (alpacas and llamas). While working at Pembroke, Robyn did some relief work at C.A.V.E.S. where she became more comfortable when dealing with small animal emergencies. But, the biggest changes came in her life when she married her husband, Brian, in 2007 and had her son, Shane, in 2008. Looking for a change in atmosphere, Dr. Eldredge's journey has landed her at Deerfield Veterinary Clinic where she is working part time so she can spend time with her son while he's young. Eventually, she will become a full-time associate. We look forward to a long-term relationship with Robyn and we are so happy she has become another member of the DVC family.
Kim Brothwell, DVM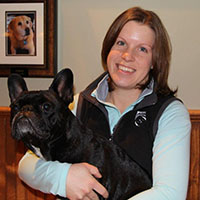 Dr. Kim Brothwell grew up in Lee, New Hampshire and had a love for animals at a young age. She got her first dog Lady, a Golden Retriever, for her 5th birthday. When her parents got her riding lessons, they thought it was just a childhood phase. But, that turned into many years of showing both locally and regionally on quarter horse and paint circuits. Kim earned her undergraduate degree in Animal Science at the University of New Hampshire . While there, she juggled working as a barn manager for Boulder Brook Stables, an assistant at Statham-Newfield's Veterinary Hospital, and in the histology lab at the New Hampshire Veterinary Diagnostic Laboratory. Kim was accepted into veterinary school at the University of Missouri. In veterinary school Kim took leadership roles in the Veterinary Business Management Association and the student chapter of the American Animal Hospital Association. She was also a leader in forming a new program at the school that allows students to spend time in South Africa learning and working with veterinarians on animal reserves. Throughout veterinary school, Kim did several externships at equine hospitals, including hospitals in Kentucky, Texas, New Hampshire, and Maine. Following veterinary school, Kim completed an internship at New England Equine Medical and Surgical Center where she expanded her equine skills in the areas of lameness, surgery, ophthalmology and medicine. Kim married Dan, her high school boyfriend, in 2012 after being together for 10 years. After joining the DVC family in the summer of 2013, Kim and her husband moved to Deerfield with their French Bulldog , Gus. In her spare time, Kim enjoys riding, yoga, mountain biking and hiking with Gus.
Brittany O'Neil, DVM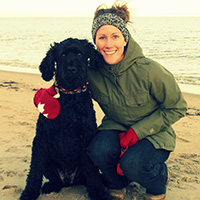 Dr. Brittany O'Neil was born and raised in Massachusetts where she was surrounded by all different kinds of animals from a young age. She was introduced to horses in grade school and worked and rode at various barns throughout the years in the New England area. Receiving her undergraduate degree in Biology at the University of Vermont, Brittany developed an appreciation for the countryside and the hard work and dedication that go into producing locally grown food. It was here where she also developed a passion for dairy cows during a cooperative program called CREAM. On top of being a full time college student, she milked cows and made management decisions for the herd of Holsteins and Jerseys. In her free time, Brittany enjoyed hiking the green mountains of Vermont, snowboarding, and showing cows at the local county fair during the summer. After graduation, Brittany moved to Canada to pursue her preschool dream of becoming a veterinarian. She attended the Ontario Veterinary College, located in Guelph, Ontario. During her time there, she was an active member in both the equine and dairy club, and enriched her education in areas such as equine lameness, farrier work, and reproduction. She was also part of the first ECG study done on thoroughbreds; monitoring heart rates and patterns during actual races run at Woodbine Race Track. After graduation, Brittany moved back to New England and joined the Deerfield family in June 2014. She strives to provide the most up-to-date veterinary care and is excited to develop lasting relationships with the Deerfield community!
Jenni George, Hospital Administrator, Large Animal Techncian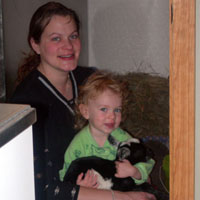 Jenni was born and raised outside of Toledo, Ohio. She had no history with animals and always wanted to move to L.A. or New York to pursue acting. Somehow, though, she ended up in Alamosa, Colorado where she met her future husband, Simon. She had no idea people owned goats and had no idea how to milk one. But soon, she was not only milking the goats, but delivering their babies, pulling their blood for testing, and administering medications. A whole new world was opened up to her and she loved it. After attending Adams State College for 3 years (and changing her major three times), she worked along with Simon at Countryside Veterinary Clinic and began to learn the ins and outs of veterinary medicine. She was a receptionist and part-time office manager for 2 years while living with Simon's family on the goat farm. Jenni followed Simon to Fort Collins and Colorado State University. She got a job at the CSU Veterinary Teaching Hospital as an emergency receptionist and a radiology assistant. She graduated with a degree in Public Relations. After moving to New Hampshire, Jenni also got a job at Waldeigh's Falls Veterinary Clinic as a receptionist where she worked until she had her daughter, Elayna. While Jenni loved staying at home and taking care of her beautiful daughter, she also missed her job. Again, Deerfield Veterinary Clinic was started. This way Jenni can spend time with her husband and Laynie, Lucien, and Stiorra can grow up at the clinic. She would like for Deerfield Veterinary Clinic to be a welcoming place where people and their pets feel comfortable and happy.
Ruthanne Durgin, Office Manager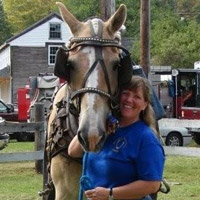 Ruthanne "Thann" Durgin has joined our family at Deerfield Veterinary Clinic with nearly a decade of experience as a veterinary receptionist.  Thann grew up in Fremont and moved to Deerfield in 1985 with her husband.  She had worked in retail for almost 21 years when she decided to make the jump to the veterinary world.  Thann has a lifetime of personal experience with dogs, cats, draft horses, saddle horses, pigs, chickens, and plenty of other pets.  She spends most of her summers with her husband and two daughters pulling horses in New England.  We are so happy to have her on board.  Thann is knowledgable, friendly, and always willing to help!  And, she doesn't want to make anyone jealous, but she believes Paddles (her pug) is the cutest pug in the whole wide world.
Stacy Hamilton, Receptionist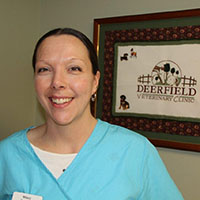 Stacy joined the DVC team in May, 2013. She had previously been a client for several years where she often made friends with other clients in the lobby. She has 18 years of administrative experience that she brings to the receptionist position, as well as her experience with owning both large and small animals her whole life. She also did pet sitting and worked in an animal shelter for several years. Stacy loves German Shorthaired Pointers and has volunteered with the New England Rescue group. She currently lives locally with her husband, Andrew and their 10-year-old GSP, Herschel. Stacy's willingness to go above and beyond to help our clients and their pets makes her a great receptionist and member of our team!
Jessica Thurber, CVT, Head Technician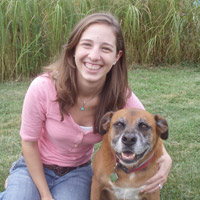 Jessica grew up with animals including cats, dogs, and hamsters. She picked up her love of animals from her mother, who once hatched at nest of snake eggs that she found in the wild. While earning her Biology degree from Grove City College in Pennsylvania, she met her husband Jon. They moved to New Hampshire where she graduated from Great Bay Community College as a Certified Veterinary Technician. Her specialty is in behavior modification and training in small animals and she has attended numerous conferences to further her training in this area. Jess is also an artist in her spare times and she painted the mural in the kid's playroom in the clinic. Her calm and peaceful nature is a huge asset to Deerfield Veterinary Clinic and we are lucky to have her here!
Kayla Goff, CVT, Head Technician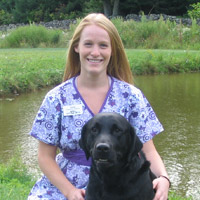 Kayla grew up around horses and began to ride when she was eight-years-old. She taught lessons to children at her sister's barn, Bright Bay Farm. Kayla graduated from the Great Bay Community College Veterinary Technician Program in May 2010. She is now a Certified Veterinary Technician who enjoys the aspect of emergency and critical care. She has continued her education in this area as well as in Ultrasonography. Kayla's horse, Ditto, is an Arab/Quarter Horse cross whom she loves to ride and jump. When she's not riding her horse, she really enjoys riding her motorcycle around New Hampshire. Kayla's cheery personality and interest in all aspects of veterinary medicine makes her a great asset to Deerfield Veterinary Clinic.
Amber Barnes, CVT
Amber grew up in Deerfield and seems to know everyone in town. She has always loved animals and was involved in 4H while growing up. Amber continued her interest by showing horses while attending Mt. Ida College where she obtained her degree in Veterinary Technology. Amber married her middle-school sweetheart, Derrick, in 2009. They currently live in Deerfield with their two cats, Boop and Hammie. Derrick, a medevac pilot for the Army, entertains us when he flies over the clinic while training in Bearbrook State Park. Amber is a wonderful asset to our clinic with her quirky sense of humor and popularity around town.
Veronica Kropelnicki, CVT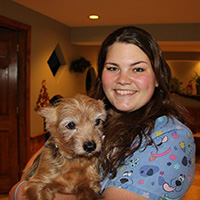 Veronica grew up in rural Pennsylvania (which has earned her the nickname of Amish in the clinic). She showed Western Pleasure and was involved in 4H with her horse, Ace. She also spent time hunting with her grandfather where her job was to care for the hounds. Veronica moved to New Hampshire after high school where she attended Great Bay Community College and earned her degree in Veterinary technology. She is the comedian of the DVC family and is the current reigning champion of the DVC Spoons Tournament (she says she is waiting for a worthy opponent). Veronica's other hobbies include playing Candy Crush with her fish, Mr. Todd Wahlberg. We love her infectious smile and we are very happy that she works hard while entertaining both the team and our clients.
Erin Marcotte, Veterinary Technician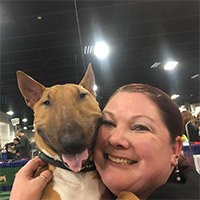 Erin grew up loving all animals, especially the bull terriers that her and her mother raised and showed. During and after college, her love of animals grew while she worked at a small animal emergency clinic in Massachusetts for two years. After a long time as a nanny, Erin decided she liked animals more than children. She graduated from Great Bay Community College as a Veterinary Technician and is continuing her education to become a Certified Rehabilitation Veterinary Technician. She has gone through extensive training with our therapeutic laser and all things related to canine rehab. Erin enjoys spending all her time with her bull terrier, Ronin, and her two goats (Nibbler and Ginger). She sometimes spends a little time with her husband, Vic, when the animals allow her to. Erin's bright, sparkling attitude and eagerness to learn will be a fantastic asset to our clinic!
Kelsey Brown, Veterinary Technician
Kelsey is a true farm girl. She grew up with a wide range of animals including steers, horses, chickens, dogs, and cats. Kelsey graduated from Thompson School of Applied Science with her degree in Veterinary Technology. She enjoys pheasant hunting with her two dogs, Bandit and Lexi. She is also the secretary for the Strafford Country Farm Bureau and continues to be involved with helping to spread the word about the importance of farming communities. Kelsey is very knowledgeable about all types of animals and is eager to continue to learn everything she can. We are thrilled that she joined the DVC family!
Ashley Houle, Large Animal Techncian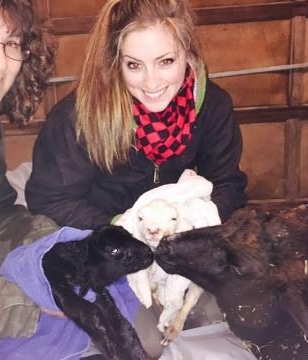 Ashley grew up in Manchester and her favorite pet was a black bunny named Lefey. Her interest in animals grew when she started riding horses at the age of seven and started competitively showing at 14. Ashley decided she wanted to be a veterinary technician after doing an internship at a small animal clinic when she was 16. After graduating from high school, she started college at New Hampshire Technical Institute. Then, she continued her education at Great Bay Community College and graduated as a Veterinary Technician. At the same time, Ashley started volunteering at Deerfield Veterinary Clinic. We were so impressed with her intelligence, confidence, and overall fantastic personality, that she joined our team. Ashley is a phenomenal member of our team and we know you will be as impressed with her as we are!
Rick and Ruth Druckenmiller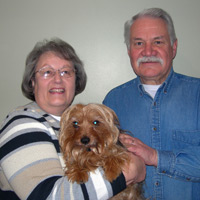 Rick and Ruth were school teachers in Genoa, Ohio. They retired 6 years ago, sold their house, bought a fifth-wheel, and began to RV full time. They have seen much of the United States, focusing on presidential homes and libraries. Some of their favorite places include Lower Alabama, Arizona, the Canadian Rockies, and anyplace with good seafood. While visiting their daughter Jenni in New Hampshire, Rick's interest was piqued in the veterinary world. He decided to go on the road with Simon and became very fascinated with veterinary medicine. So, when Simon and Jenni decided to open up Deerfield Veterinary Clinic, Rick and Ruth decided to take some time off from the road and move in with the George's. Rick now enjoys helping as the clinic handyman, yard care technician, and chef. Ruth has taken up the job as the DVC seamstress and has become quite talented at patching scrubs and removing the many stains our team members get on their clothes. They both are happy that they get to spend a lot of time with their grand children. Simon and Jenni are extremely excited to have them as a part of the Deerfield Veterinary Clinic team.
Peter and Libby George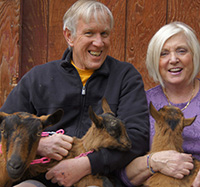 When Simon was a baby, he had an allergy to cow's milk. Instead of buying goat's milk at the store, Libby decided to raise two goats in their backyard in Sacramento, California. And so a farm boy was born. The George's moved from the city to the suburbs where they had more land. And, eventually they moved to Colorado where they had a barn with five acres. Libby became a cooperative extension agent for El Paso County 4H. Both Peter and Libby helped Simon and his brother, Zak, with their 4H projects which included dairy goats, meat goats, steers, hogs, and more. Now, both Peter and Libby are retired and live in new Hampshire for part of the year. Peter enjoys helping Jenni with the business aspect of the clinic while Libby likes helping out with the kids and by making the occasional Dunkin' Donuts run for the team. We are lucky to have their continued help and support and we are very happy to have them as part of the DVC family!